Everything you Need to Know about Cabo Pulmo BCS – Baja's Underwater Treasure
This post shares everything you need to know about visiting Cabo Pulmo BCS (Baja California Sur), from where to stay and eat, what to do, and most importantly how to get underwater in the Cabo Pulmo National Marine Park.
This article may contain affiliate / compensated links, that may earn me a small commission, at no extra cost to you. For full information, please see our disclaimer here. While all efforts have been taken to ensure the information included in this post is correct and current, travel information such as opening hours, business operations and prices change frequently. If you find anything in this post that is incorrect or outdated please let me know in the comments so I can update it for other readers.
About Cabo Pulmo BCS
Cabo Pulmo is a dusty little town hidden down the end of a long, bumpy road in the southeast corner of Baja California Sur. Best known as a scuba diving town, divers come here from all over the world to dive in one of the only coral reefs on North America's west coast. It feels worlds away from the glitz and glam of Cabo San Lucas and San Jose del Cabo, and we instantly fell in love with this town.
There are literally three streets, all sandy. There is just a handful of local restaurants (that open when they feel like it), no ATMs, no wifi, and no hot water. And the 'supermarket' was a little trailer selling chips and beer. We absolutely adored Cabo Pulmo BCS and its laidback vibe. We spent two nights here, but I wish we stayed longer. We could have easily stayed for at least four nights and included a few days of relaxing and hiking, after diving in the area.
---
Grab a copy of my Baja California Sur Travel Guide!
After falling absolutely in love with Baja, I decided to put together a Baja California Sur Travel Guide Ebook to help anyone planning a trip to Baja California Sur. This ebook is designed to be a go-to quick reference guide for the best places to visit around the state, allowing you to be confident you're hitting all the highlights without needing to do hours of research. This 125-page ebook covers 13 top destinations across the state, with recommendations for where to eat, stay and play, as well as regional information about climate, transport, and tour recommendations. It's filled with all our best tips and advice, and beautiful photos to excite and inspire you ahead of your trip to this incredible part of Mexico! There is also the option to add a customised Google Map that has over 200 locations pinned by category, allowing you to easily visualise our recommendations across the state. Find out more about the guide here.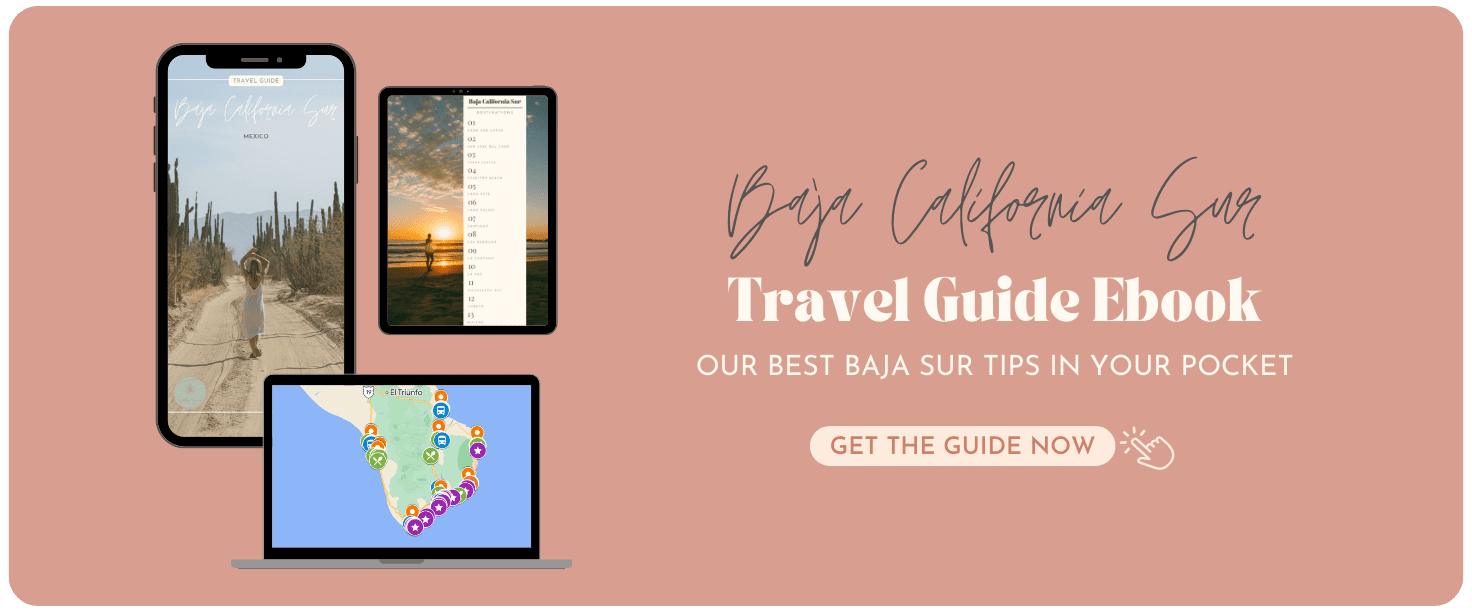 ---
Getting to Cabo Pulmo BCS
Getting to Cabo Pulmo is half the fun, and no matter which way you come from you are going to endure at least a short trip on a very bumpy dirt road. This small town is located on the infamous Camino Cabo Este. A bone-rattling washboard road that extends from San Jose del Cabo in the west, through the East Cape (Cabo Este) region, before reaching Cabo Pulmo and continuing on to La Ribera.
There is no public transport to Cabo Pulmo BCS, so you will need to have your own wheels to visit, or organise a transfer with your accommodation or a tour company. Cabo Pulmo was just one of the stops on our road trip around Baja California Sur, and we are going to assume (and strongly urge!) that you organise your own car too. Browse for rental cars from Los Cabos Airport here.
There are day tours from Los Cabos to snorkel or dive, and they will transport you. This 4×4 day tour from Los Cabos takes you along the scenic Camino Cabo Este, with a chance to snorkel in Cabo Pulmo.
But we would have been so disappointed to only stay for a day, so we would definitely recommend renting a car and driving yourself to Cabo Pulmo, and spending a few days as part of a wider Baja California Sur road trip. Below are driving directions for Cabo Pulmo.
From San Jose del Cabo/Cabo San Lucas
If you are coming directly to Cabo Pulmo from Cabo San Lucas, San José del Cabo or SJD Los Cabos International Airport, you can approach the town from the north. This route avoids most of the dirt roads, and is a relatively smooth trip! Following this route, you will follow Highway 1 past Santiago, before diverting on to Camino Cabo Este near the small town of El Campamento. The road will remain paved through La Ribera, before turning to bumpy dirt for the final 30 – 45 minutes of the drive to Cabo Pulmo BCS.
From La Paz/La Ventana/Los Barriles
If you're coming from anywhere in the north, such as La Paz, La Ventana or Los Barriles, you will follow a similar route, except you will be travelling south on Highway 1, before connecting with Camino Cabo Este near El Campamento.
Via East Cape (Cabo Este)
If you include a visit to the East Cape on your trip (which we highly recommend!), you will travel the entire length of Camino Cabo Este. If you're coming from the Los Cabos area in the south, we suggest visiting the East Cape first. Before continuing along Camino Cabo Este to Cabo Pulmo.
If you're coming from the north, like La Paz, La Ventana, Los Barriles etc. we would suggest visiting Cabo Pulmo first, before continuing along Camino Cabo Este southbound to East Cape. This is one of the most scenic drives we have ever done, and despite the condition of the road we would highly highly recommend exploring the entire length of this beautiful hidden coastline.
I have detailed information about driving on Camino Cabo Este in my post about East Cape Baja, which should dispel any concerns. The road really isn't that bad and it was one of the highlights of our trip to Baja.
Getting around Cabo Pulmo BCS
Despite not being the easiest place to get to, once you arrive in Cabo Pulmo BCS you can cover the whole town on foot (in just a few minutes!). Unless you want to visit some of the other beaches around the area or do some DIY snorkelling, you could get by on foot for a few days within the town. All the restaurants are close by, and most accommodation is in the town centre. All the dive and snorkel tours depart from the main beach too. If you like walking, you could access some of the other beaches, such as Playa El Arbolito without a car, walking along the beach and around the points at low tide.
Sustainable travel in Cabo Pulmo BCS
This little town is actually an amazing case study of sustainable tourism. Formerly the town lived off fishing, but around the 1980s, the fishermen were having to go further and further out to sea to find fish and were catching less and less. They soon realised that they had over-fished the area, and this lifestyle was no longer going to be sustainable. With the help of some academics from a university, they lobbied to have the area declared as a marine park, which it was in 1995. In the past two decades since scientists started studying the area, there has been a 465% growth in life.
Now, the area is still inhabited by the same families, who have turned to diving and snorkelling as their main source of income. Activities in the national park are tightly controlled to protect the thriving marine environment. The number of divers and snorkellers in the water at any one time is restricted, and each operator has a schedule on when they can access certain sites. The locals have retained control of the tourism industry in Cabo Pulmo BCS, and when you visit you know you are staying local, eating local and diving and snorkelling with locals who are committed to protecting the area and keeping it pristine.
Choosing local is just one of the ways you can be a more sustainable traveller. Check out our sustainable travel tips post for 19 other ways you can leave a more positive impact on the destinations you visit.
Things to do in Cabo Pulmo BCS
The best things to do in Cabo Pulmo BCS mostly involve getting in or under the water! But even if you're not an ocean lover, there is plenty to discover with two feet on dry land.
Cabo Pulmo National Marine Park
The underwater world is what brings most visitors to Cabo Pulmo BCS, to the Cabo Pulmo National Marine Park. The reef in the park is one of just three living coral reefs on the west coast of North America. It was established in 1995, and in 2005 it was declared a UNESCO World Heritage Site. Spanning an area of 71 square kilometres, the marine park is home to over 6,000 species of marine life, including turtles, whales, dolphins, Mobula rays, sharks and an array of reef fish like groupers, snappers and parrotfish.
The area is tightly regulated to protect the reef, and activities such as commercial fishing are prohibited. Tourists are able to snorkel and dive in the area, accompanied by authorised operators who are required to follow strict rules. This was great to see, and you can tell there is genuine care and commitment to keeping the reef pristine, after years of hard work and conservation to restore it to the state it is in today.
There are a couple of different ways you can experience the magical underwater world of the Cabo Pulmo National Marine Park.
Snorkelling in Cabo Pulmo
You don't need to be a diver to see the reef, as there are plenty of amazing sites for snorkellers too. Most of the tour operators in Cabo Pulmo offer snorkelling tours, or it is possible to DIY snorkel from one of the beaches if you have your own equipment.
Snorkel tours
If you wander down the very small main street in Cabo Pulmo, you will see many signs for tour operators and dive shops advertising snorkelling tours. It seems the going rate for a tour is around $65 USD, which lasts around 2 – 3 hours and usually includes 3 – 4 snorkel stops, all your gear (including wetsuits), and the mandatory fees to enter the national park. Your tour operator will select the snorkel sites based on the weather and the winds. They will choose according to the conditions, to give you the calmest and best snorkel experience possible! Some sites are known for seeing turtles, there is a popular site near a sea lion colony, and no matter where you end up you are likely to see colourful reef fish of all shapes and sizes!
I would highly recommend organising your snorkelling tour in town once you arrive. All of the tour operators in Cabo Pulmo BCS are locally owned, and by booking directly in town you are supporting a local tourism business without including any intermediaries like online booking companies or large organisations from Cabo. We didn't do a snorkelling tour in Cabo Pulmo as we came to dive, but all the operators seem to offer a really similar tour, and all being locally owned I don't think you can make a bad choice! We scuba-dived with Cabo Pulmo Dive House and had a great experience, and they also offer snorkelling tours. East Cape Adventures (also known as Cabo Pulmo Adventures) comes recommended by a few people too.
If you're short on time or don't want to drive yourself to Cabo Pulmo, this day tour from Los Cabos includes round-trip transportation, a snorkel tour at 3 – 4 stops and a local lunch in Cabo Pulmo (but we still suggest staying a few nights in Cabo Pulmo!)
Snorkelling from the beach
The coral reef in Cabo Pulmo begins just from the shore, so it is possible to enter the water from the beach and go snorkelling without going out on a boat. If you don't have your own snorkel gear, you could get in touch with one of the snorkel or dive operators in town to rent some. The best beach to do this from is Playa El Arbolito, around 10 minutes south of Cabo Pulmo. At the time of writing, you needed to pay 50 pesos per person to enter the beach. Then you can head towards the rocks south of the beach and jump in!
Diving in Cabo Pulmo
We came to Cabo Pulmo BCS specifically to go scuba diving. Divers from all over the world are attracted by this pristine reef, and the chance to encounter big marine life like sharks. Below I will share some general information about diving in Cabo Pulmo BCS, as well as our own experience diving.
Cabo Pulmo National Marine Park regulations
Diving in the Cabo Pulmo National Marine Park is tightly regulated, and divers must be accompanied by an authorized tour operator. Whether you are a certified diver or not, the dives are guided, and there is a maximum of six divers per guide. Most of the standard tours are a two-tank dive to two different sites in the park.
Cabo Pulmo dive sites
There are a number of different dive sites around the area. We hadn't done any prior research or planning, so we didn't have any specific sites in mind that we were hoping to see. If you have a specific desire to visit a certain site you should discuss this in advance with the dive shops. Otherwise, the operators will determine the sites based on conditions, and the sites they are allocated from the marine park authority. When we visited, our instructor planned our dives according to the times we were allocated at a certain site. We had to be on time and in the water on a schedule, as another group would be waiting when we got out. We thought this was great, avoiding crowding at the dive sites which was a better experience for us and much better for the marine life!
Best time to go diving in Cabo Pulmo
It's possible to dive in Cabo Pulmo BCS year-round, however, the best season is considered summer and autumn (fall). Some operators would narrow it down further to say September, October and November are the best months when the waters are warmest and the visibility is at its best.
We visited Cabo Pulmo BCS in January, and the water was cold! Even with a 5mm wetsuit, we were freezing down there, but it was worth every second. The visibility wasn't incredible, but again, it was worth it and I wouldn't be discouraged from diving outside of what is considered the peak time.
Cabo Pulmo dive shops
As with the snorkelling tours, there are plenty of local dive shops to choose from. All seem to offer something very similar, with similar prices, and they all have to operate within the park rules. We ended up going with Cabo Pulmo Dive House after reading positive reviews online. We had a great experience, and would highly recommend them! We had a great instructor Manuel, who was really friendly and knowledgeable about the area. It was $150 USD per person for a two-tank dive, with all the gear. It was a bit confusing to find them, as they seemed to be sharing a shop with East Cape Adventures (also known as Cabo Pulmo Adventures). These guys are also a popular and recommended option.
If you want to do multiple dives and you're looking for an inclusive package, you might like to check out Cabo Pulmo Beach Resort, which has a PADI dive centre on-site. They have a number of different bungalows available, and they offer packages that include diving, accommodation and meals at their on-site restaurant.
If you're short on time or don't want to drive yourself to Cabo Pulmo, but still want to go diving this day tour from Los Cabos includes round-trip transportation, a two-tank certified dive, and a local lunch in Cabo Pulmo (but we still suggest staying a few nights in Cabo Pulmo!)
Our experience diving in Cabo Pulmo
We ended up diving firstly at El Bajo, and secondly at El Vencedor Shipwreck. Our first dive was good, but we have to admit, nothing special. There was a lot of life, with many different colourful fish. But the corals weren't overly impressive, having done our certification on the Great Barrier Reef (I think we shot ourselves in the foot here, starting off with one of the very best!). But it was incredible as per usual to be underwater and we enjoyed having a guide to do all the navigating (which we are awful at!). The dive was a drift dive and our captain picked us up where we ascended.
It was our second dive at El Vencedor that was really special, and why we came to Cabo Pulmo BCS to dive. This very small shipwreck is a known hangout spot for bull sharks. Our instructor had already let us know that there was a very high, 95% chance that we would see one, and they are very used to seeing divers. This was both exciting and terrifying at the same time, and by the time we were ready to jump in my heart was absolutely racing! Brayden was, of course, fearless and absolutely pumped to descend.
We had seen smaller reef sharks on dives before, which of course don't really compare to bull sharks. But I remembered how calm I had felt seeing them down on the ocean floor, and was trying to channel that inner zen as we got ready to go down.
Once we descended and got down the 15 metres to the sandy floor, we saw our first shark within seconds, circling around the group from a distance. We were down for around 40 minutes, and in that time we probably saw around 10 sharks circling around. It was terrifying and thrilling at the same time. I knew in my head that they wouldn't attack us. But I still squeezed Brayden's hand so damn tight every time one swam past, and I couldn't bring myself to look at them straight on, just in case they looked back and decided I did look like a delicious snack. This experience pushed me to my limits but was such an incredible feeling and I am so happy I didn't allow myself to pull out at the last minute.
Whale watching
If you are visiting Cabo Pulmo at the right time of year, you are almost guaranteed to spot humpback whales! From January to April, the whales can be seen playing and splashing from the shore. And if you're out on a boat for a dive or snorkel tour, you will likely get even closer to them! We saw some quite close to our boat when we were diving, and when we were underwater we could hear their songs, which was really special.
But if you want to focus solely on the whales and take some photos, you can take a whale watching tour. Most of the operators that offer snorkelling and diving can also take you whale watching, where you will spend around three hours looking for these beautiful animals in the bay. East Cape Adventures (Cabo Pulmo Adventures) offered these tours at the time of writing.
If you love whales, you've come to the right place! The waters around Baja California Sur are the prime location for whale watching, full of many different kinds of whales. We were blessed to see them all over the state, but without a doubt, our favourite whale experience was getting to touch and kiss grey whales in Magdalena Bay. Read more about this once-in-a-lifetime experience here.
Cabo Pulmo beaches
When you're not under the water, Cabo Pulmo has some stunning beaches to relax on.
Playa Cabo Pulmo
Playa Cabo Pulmo is the main beach in the centre of the town and is a beautiful spot to watch the sunset. At first glance, it looks busy as this is where the boats enter the water. But walk a little further up the beach (to the right) and you will likely have the place to yourself.
Playa El Arbolito
About ten minutes south of Cabo Pulmo is Playa El Arbolito, which as already mentioned, is a good spot for snorkelling. The water is clear, and the waves are gentle here making it a great spot for swimming. Occasionally you can hire a stand-up paddleboard or kayak, but I wouldn't count on it as opening days and hours are unreliable. It's possible to camp here, there are basic toilets and showers, and there is a small restaurant on-site (again operating hours are loose!).
Los Frailes
Further south from El Arbolito is Los Frailes. A popular spot for camping, when we visited the beach was lined with RVs. The water here is calm and gentle, protected by a cape on the northern side of the beach. Los Frailes is the perfect spot to come if the winds are blowing in Cabo Pulmo, which is common in winter. There are no facilities here, so bring your own drinks and snacks.
Hiking around Cabo Pumo
We would have loved to spend more time in Cabo Pulmo BCS, simply relaxing and soaking up the laidback vibe. But also to go for a hike! The ocean isn't the only attraction here, and the mountains and desert that rise up behind it are equally stunning. We noticed a few different trails as we were driving through the town, and we will be back one day for sure to explore some of them.
We would recommend asking your accommodation for some more info on the trails around the area. But from what we can tell, some local mountain bikers created two trails in the tall mountain behind the town, which are suitable for hiking and biking. You can also walk south along the beach from the town at low tide, around some rocky coves and capes as far as you would like to go. Be sure to check AllTrails, there are some great options on there too.
Where to eat in Cabo Pulmo BCS
There is some GOOD food to be had in Cabo Pulmo BCS. But as with most things in this tiny, dusty town, restaurants seem to open when they feel like it and opening hours are completely unreliable. But we never had any trouble finding somewhere to eat, sometimes we just ended up somewhere different to where we planned! Below are our top three options, which I think are actually the only places we ate at the whole time we were there because they were so good we kept going back! Brayden still maintains that the best prawn tacos he has had in all of Baja were from Cabo Pulmo.
Tacos and Beer
Probably our favourite option in Cabo Pulmo, but definitely the most unreliable. The town is small enough that you can wander down and have a look if they are open, which we would advise doing before getting your hopes up for a meal! I can't really provide any more information on opening hours, besides the fact that the hours on Google are incorrect. And it seems they are a daytime lunch option, not dinner. But, all this aside, the seafood tacos here are AMAZING! Seriously, drool-worthy. They serve up all the usual options, and they have an incredible salad bar filled with all kinds of salsas and salads to load up on. They are right on the beachfront, so you can enjoy your tacos and beer with your feet in the sand.
Location and (incorrect) opening hours here
La Palapa
La Palapa is at the end of the main street right on the waterfront and is the most reliable option in town. They seemed to be open most days, for breakfast, lunch and dinner. This was our nighttime option and we had dinner here each night we were in Cabo Pulmo. Their menu is large, with local options like tacos and enchiladas, as well as more substantial main meals like whole fish and other seafood options. The camaron (prawn) tacos here are to die for. They include some kind of delicious spice in their batter, which takes them to a whole other level. This is the place Brayden keeps dreaming about every time we have prawn tacos, that just don't quite compare! We also shared a whole snapper for dinner one night, which came with rice, salads and tortillas and it was simply delicious and flavoured so well.
Location and opening hours here
Los Tornados
Tucked away from the beach on the main road, Los Tornados was our breakfast option. According to their hours, they are open all day, but we can't confirm that they were open at night. They had some great local options for breakfast (chilaquiles, huevos ranchos etc.), but I tried the french toast and it was delicious! Coffee was hot and cheap, and they also had some baked treats like sweet enchiladas that were great to take away to the beach or on the boat.
Location and opening hours here
Where to stay in Cabo Pulmo BCS
Basically, all the accommodations in Cabo Pulmo BCS are small, locally-owned options. You won't find too much info on Booking.com or even Airbnb. Most things are organised via Whatsapp or once you arrive in town. Again, this is another great reason why Cabo Pulmo is such a sustainable tourism destination, as all the ownership and management have stayed local. The infrastructure in town is basic, but that's all part of the charm! Forget about wifi, you probably won't have any hot water, but you will get an authentic, Mexican-style accommodation experience that is cute and cosy.
Cabañas Alicia
We had seen Cabañas Alicia recommended in a blog online, and we got in touch a few days prior to our visit via Whatsapp to organise our stay. The cabañas are in the main street, right in the centre of town and there are a few different options to choose from. It's a really lovely property, with plenty of plants and colourful decorations. We ended up in the 'El Nido' room, which was very large and had a beautiful balcony with ocean views. This room was 1,200 pesos per night. There are other, larger cabañas that include full kitchens which would have been a great option too.
To book, get in touch via Whatsapp on +52 624 191 2550
Cabañas Mar de Cortez
Another option on the main street of town, Cabañas Mar de Cortez is a number of individual bright blue cabañas. The rooms don't seem to have kitchen facilities but look large with clean and tidy bedrooms and bathrooms. They all have outdoor patios, some with chairs and tables, others with hammocks or lounges which looked like the perfect spot to relax after a long day on the water!
You can book via Whatsapp on +52 624 241 2656
Cabo Pulmo Beach Resort
If you're looking for a more formal and established option, Cabo Pulmo Beach Resort is the largest accommodation in town. The resort is made up of a series of individually owned bungalows and cabañas. Some come with full kitchen facilities, and most have outdoor areas. The resort offers dive packages that include accommodation, meals and daily dives.
You can get in touch via their website here
Tips for your visit to Cabo Pulmo BCS
Cabo Pulmo BCS is nothing like the rowdy Los Cabos duo – Cabo San Lucas or San Jose del Cabo. If these cities are your usual holiday destinations, you are likely to be shocked at how small, laidback and unglamorous Cabo Pulmo is in comparison. But if you're anything like us, and prefer small-town, laidback, local destinations you will be in absolute heaven here! You won't find all the creature comforts of a resort or developed city, but you will find a whole lot of natural beauty, and plenty of slow, good vibes all around.
Phone service and wifi
The only phone provider that has service in Cabo Pulmo BCS is Telcel. We set up our phones with Telcel when we arrived n Baja California Sur, and we had no issues in Cabo Pulmo. It wasn't incredible 4G, but we had no problem using the internet, and hot spotting to our laptops when needed. Our accommodation didn't have any wifi, and I'm not sure many places do.
ATMs
Come loaded with cash as there are no ATMs in Cabo Pulmo BCS. The nearest one is La Ribera, and if you're planning to also spend some time in the East Cape before coming out the other side of Camino Cabo Este, you'll want to get enough cash. We knew there weren't any ATMs, and we had enough cash to get by for accommodation, food etc. but we didn't consider the cost of our dive. I think we must have subconsciously assumed we could pay on card, but that wasn't the case. Luckily we were able to organise a PayPal payment to Cabo Pulmo Dive House, but we probably wouldn't have been able to go diving if we couldn't have done this. So be sure to consider the cost of your activities and diving too!
Petrol
There are no petrol stations in Cabo Pulmo BCS, and if you are travelling via the East Cape along the Camino Cabo Este from San Jose del Cabo, there are none there either. The closest is La Ribera, which is around 45 minutes away. So start your journey to Cabo Pulmo BCS with a full tank just to be safe.
Food and groceries
As mentioned above, the 'supermarket' in Cabo Pulmo BCS was a tiny small selling some chips, beers and a few other snacky things. I doubt you could have put together a meal from the offerings! If you are staying somewhere with kitchen facilities (many of the cabañas do have these facilities, confirm before arrival) you need to stock up on groceries in advance. The best spots to do this would be San Jose del Cabo or La Ribera, depending on where you're coming from.
Go with the flow
Cabo Pulmo BCS is a world away from the busy and bustling Cabo San Lucas, and San Jose del Cabo. It is not developed in the same way, and there are not the same level of tourist amenities and services. Restaurants might be closed despite Google saying they are open. You'll be lucky if your shower is hot. And even if you're with Telcel, the phone service and wifi are not strong. But that is the beauty of Cabo Pulmo! The laidback atmosphere instantly draws you in, and you can't help but slow down. Give in, relax and go with the flow while you're in this little piece of paradise.
Final thoughts on Cabo Pulmo BCS
Cabo Pulmo BCS is one of those places that you hope never changes, but as soon as the road is paved or one big resort goes up it could be a different town… I really hope this isn't the case, as we loved the old school, laidback charm and we imagine that this is what most of Baja felt like before the glitzy resorts appeared. Take our advice and allow a few days in this laidback little town. A day trip to snorkel or dive isn't enough, and you won't get to experience the charm of Cabo Pulmo BCS.
OUR BAJA CALIFORNIA SUR TRAVEL GUIDES